A Bali holiday encompasses some of the best of Asia's natural attractions from height defying waterfalls to beautifully landscaped gardens, hot springs and monasteries. Aruyvedic massage centres draw on the natural elements of the island and complement the undiscovered beauty of this unspoilt paradise.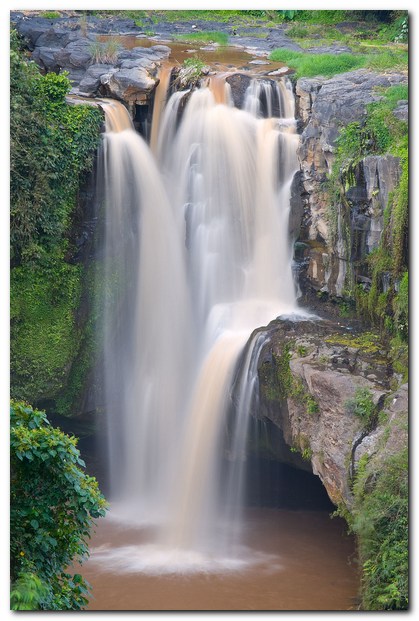 Waterfalls
You can't take a Bali holiday without experiencing one of the island's breathtaking waterfalls. The Gitgit Waterfalls are located just a stone's throw from Singaraja and boast a 40 metre drop of spectacular crystal clear water, at the bottom of which, visitors can swim on their Bali holiday. The refreshing pool is seemingly bottomless and swimming alongside a deafening waterfall is certainly a very memorable experience. You may not want to bring a loved one with you though, as a local legend has it that anyone that bathes in this pool with their lover will eventually separate.
If you and your partner are planning a romantic Bali holiday and want to visit one of the island's waterfalls, then you may feel safer sticking to the Daybreak Waterfalls at Lovinia. Although they aren't by any means as impressive as the falls at Gitgit, at least as you bathe together in the pool, you'll be safe in the knowledge that the two of you will still be together upon returning home from your Bali holidays.
Hot Springs
If you want to swim somewhere a little warmer on your Bali holidays then take a visit to the island's only hot springs at Banjar. These are located nearby a Buddhist Monastery and set in perfectly landscaped tropical gardens. You can spend two hours simply relaxing in the hot springs which are said to contain many healing properties that are more beneficial than those offered in massages at many of the international hotels in Bali. On the same site as the hot springs is a traditional Balinese restaurant which serves vegetarian cuisine. The Brahamavihara Arama is the only Buddhist Monastery in Bali and sits in prime position overlooking the sea.
Natural Massage
A Balinese massage is a perfect addition to a Bali holiday and offers an opportunity to relax and enjoy the natural resources of the island, from the fresh aloe vera flowers to the volcanic mud used in the treatments. Many of the hotels in Bali offer their own traditional take on the Balinese massage, but it is believed that the best that the island has to offer can be experienced at the Bali hotel, Anantara Seminyak, which is as equally renowned for its stunning sunsets as it is for the many massage treatments that take place in its luxury spa. One of the spa's signature treatments is the vanilla magic massage, which uses vanilla pods grown in the west of the island alongside sweet almond oil and cracked black pepper. This treatment may sound good enough to eat, but it is also instrumental in soothing nerve tension and boosting energy levels.
With a plethora of holistic treatments and some stunning natural attractions, a Bali holiday showcases some of the best that Mother Nature has to offer. With many more natural attractions including rugged mountains and pristine beaches, it's no wonder that so many people are now heading to this paradise island.